How to activate Ncell 4G, get free data offer and more.
Ncell starts 4G from Kathmandu and it reaches to more cities. We are here to compile all the detailed information and general question regarding Ncell 4G. The post includes all information including Ncell 4G coverage, Ncell frequency band, Handset compatibility, Speed and the activation procedure.
Where is the Ncell 4G coverage available?
At first, Ncell 4G was available in Kathmandu, Nagarkot, Banepa and Dhulikhel. Update: As of Jan 7, 2018, 21 cities are now covered with Ncell 4G. See the complete list here. They are also known to add more 4G Base stations to extend the coverage in 40 cities of the country which includes all major cities of the country.
What is the frequency band of Ncell 4G?
The frequency band of Ncell 4G is 1800 MHz. This is the same frequency band as that of Ntc.
How to check if your handset is compatible with Ncell 4G?
To check if your handset is compatible with 4G, you need to look for the LTE 1800 MHz in the specs of your phone. If you cannot check the specs, you need to go to the settings and mobile network, then go to the available mobile networks to select manually. After some scanning, it will show you the list of networks available for you. If it shows 429 02 LTE or Ncell LTE, then it is sure that your handset supports Ncell 4G.
What is the speed of Ncell 4G?
As known, Ncell 4G speed comes around 33 Mbps. But as the speed depends on the power of 4G signal and the time of usage, we have found it to be around 10 Mbps of download and around 5 Mbps of upload in average. Here is the snapshot of Ncell 4G speed in Kathmandu. Click here for more detail speed test of Ncell 4G.
Do I need to change SIM card for Ncell 4G?
Yes, you need to change your SIM to U-SIM card to get Ncell 4G. Read here for more.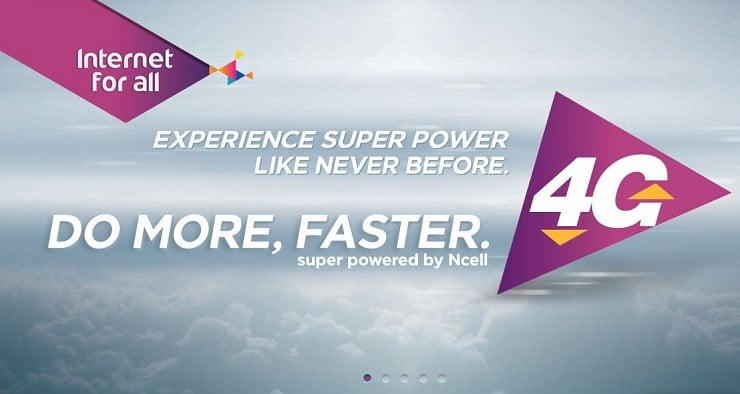 How to activate Ncell 4G ?
You need to change your SIM to U-SIM for the Ncell 4G.
Type q and send it to 324 to check if your SIM supports Ncell 4G.
Then you have to put your phone in 4G preferred mode in settings, mobile network.
What are the Ncell 4G free offers?
After the 4G activation, Ncell provides 1 GB free data pack to the subscribers valid for 3 days from the next day. Ncell also provides free song listening and download from their recently launched Yonder music Nepal app for 30 days of subscription till Ashar 16, 2074. Click to download the Yonder music Nepal app. All the existing data packs  works for Ncell 4G. They are also likely to bring more new Ncell 4G data packs soon.
To activate the free music streaming with Ncell 4G offer, you need to dial *324#.
If you have any queries for Ncell 4G, do comment below.