Qpay, a new mobile wallet app launched in Nepal
A new mobile payment platform called Qpay has been launched in Nepal, while there are a bunch of other digital wallet apps like eSewa, Khalti, Prabhu, IME pay in Nepal. Qpay app allows making payments via their mobile devices for the products purchased and/or services used. Find the advantages, features of Qpay app below. Download the app yourself and give a review of the app.
As they have the slogan/motto of "payment simplified", they claim to simplify the whole payment process using Qpay app. They also say that their solution utilizes cutting edge technology for the payment for all stakeholders like Consumers, Merchants, and Bank. "Our solution is a paradigm shift in the payment landscape and provides an alternate solution for everyday small value transactions which is or has been traditionally cash-based".
Features
The main features of the Qpay app for consumers are:
Payment of products purchased or service used.

Allows paying for shopping in retail outlets for clothes, groceries, restaurants, Taxis and more.

Fund Transfer

Allows fund transfer between Qpay users.

Bill payment

Allows bill payment with few clicks for Phone bills, internet, Cable TV, electricity bills. They can easily link up their bank accounts with the app for easy payment and loading.

Withdraw funds

Allows withdrawing funds from different merchant locations, for an urgent need.
Other features include
A proximity-based feature like Nearby Taxis:

The app will help to locate Taxi nearby Qpay users. Taxi fares can also be paid using the Qpay app.
The app can also help to find Nearby Deals/ ATMs/ Restaurants.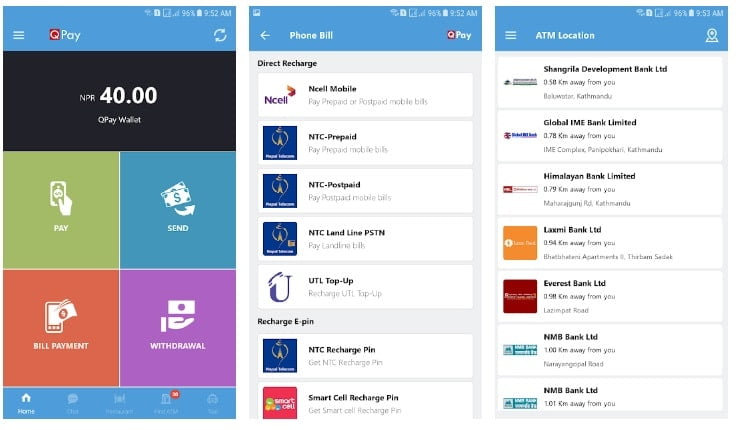 Download
Find the Qpay consumer app here in play store and download. The app is also available in iOS, look for the QR code in the app logo to find this app there.
Similarly, they will have such apps for merchants to accept payments from consumers. This app will also give a platform to broadcast several deals for their business promotion. As they have announced to go for payments in all retail stores, most of the other mobile payment platforms will also go for the same. So, the new era in payment will be in the retail stores for shopping.
They also claim to have partnered with 45+ banks, for 100k+ users, 1.5k+ merchants, and 1.3k+ withdrawal.
If you start to use the Qpay app, please leave a message for your feedback of the app here in the comment.
READ ALSO