Oppo, the Chinese tech giant has unveiled its first self-designed NPU (Neural Processing Unit), MariSilicon X at Oppo INNO DAY 2021. Termed as the cutting-edge tech, MariSilicon X comprises a combo of advanced NPU, ISP, and multi-tier memory architecture. It can also deliver 4K AI Night Video with Live preview. Let's find more about Oppo's 6nm NPU below.
What's an NPU?
NPU refers to the Neural Processing Unit which is built into the mobile processor to utilize advanced neural networks for enhanced ability in terms of photography & videography. Technically, it is a CPU for the phone's camera which does the best in terms of capturing stellar photographs. NPU further assists in empowering the AI capacity of the entire phone itself while using Google Lens or similar technology.
Oppo MariSilicon X NPU
According to Oppo, MariSilicon X supports 18 trillion operations per second (TOPS) which is a whopping capability to cater to enhanced AI power. Having an efficiency of 11.6 TOPs per wart, this new NPU will deliver top-level performance and also save battery.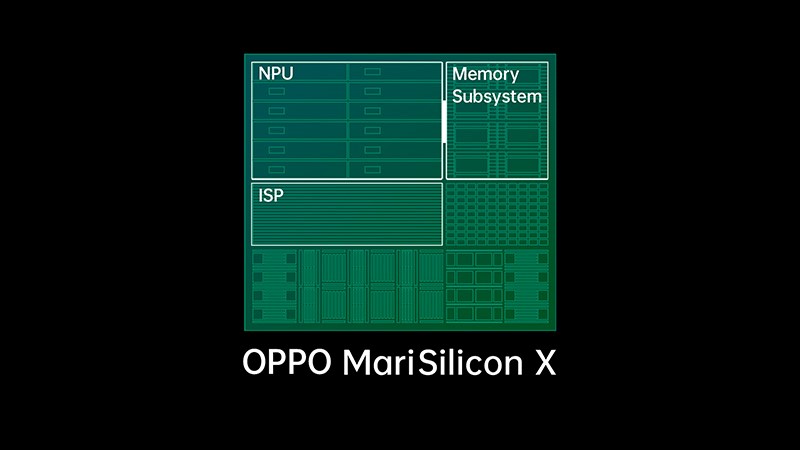 There is a dedicated tera-bps memory subsystem, which allows MariSilicon X to make full use of the NPU's computing power without restriction. It significantly reduces the time needed to copy data back and forth between storage and processing units. The 6nm NPU also houses a dedicated DDR with extra bandwidth of up to 8.5 GB/s. The multi-tier memory architecture can easily minimize delays and also saves the power of the device at the same time.
Check out: Oppo Smartphone Price in Nepal | Detailed Specs
MariSilicon X can capture 4K AI Night Video through its competitive enhancements to video frames in real-time. This NPU is also 20 times faster than that of OPPO Find X3 Pro.
Also Read: NTC VoLTE Arrives In OPPO Smartphones: Find The Compatible Devices
Powerful ISP For Ultra HDR
As the MariSilicon X also combines a powerful ISP, it extends the power to capture images with an incredible 20bit 120db dynamic range – 4x greater than that of Find X3 Pro. The contrast ratio of 1,000,000:1 between the brightest and darkest areas of the image results into true to life images.
Real-Time RAW Processing

The 6nm built MariSilicon X excels at the capacity to directly perform real-time 4K AI processing and 20bit HDR fusion in the RAW domain at the pixel level. The NPU can achieve an 8dB signal-to-noise ratio for setting a new bar for computational photography.
RGBW Pro Mode For Pro Performance
The NPU also combines Dual Image Pipeline design and double raw supersampling. This showcases the full potential of OPPO's RGBW sensor. there is up to 8.6dB improvement in low light performance. Also, there is a 1.7x improvement in texture quality in both photos and videos.
4K AI Night Video
The main highlighted feature of the NPU is 4KAI Night Video, setting a new era in the world of photography. Thanks to its powerful AI, it can reduce noise to a great extent for clearer and sharper videos. The dynamic range also utilizes AI with greater color reproduction. This is the first time a mobile camera is going to capture 4K HDR Night videos.
Words From OPPO's Senior Director
"With more than a decade of experience in pushing the boundaries of image technology, OPPO has been behind some of the biggest innovations in the industry when it comes to camera modules, lenses, and algorithms," said Jiang Bo, OPPOs Senior Director, during the event. He further added, "Our new cutting-edge imaging NPU is the biggest leap we've taken so far, which brings more power to mobile imaging systems and will create an extraordinary experience for our users."
Do Check: OPPO Patents A Phone With Dual Sides and Wraparound Screen
This powerful NPU will debut with the Find X Series in Q1, 2022. So, what do you think about OPPO's exceptional NPU? Will you like the Find X series to launch in Nepal too? Do write your thoughts below in the comment section.