If you were looking for a massage gun that combines function with the cost, here is one product that ticks the boxes. We are talking about a high-quality 6-power speed/gear facial massage gun which you can use to gain muscle recovery and soothe your skin in no time. If you are an athlete or one who frequently hit the gym, regular individuals can use this product and relax their muscles. Here's a closer look at this incredibly cost-efficient fascial massage gun that you can buy on Daraz 11.11, along with the reasons to choose it.
Why use a massage gun?
Also called the Fascial Gun Muscle Massage, it is used to lessen muscle pain, relieve joint pain, and improve blood circulation after a long bout of physical hardship. The device uses a vibration therapy technique that employs amplitude, vibration, frequency, and torque to release the tension in the deep muscle. The 4 nozzles help treat legs, buttocks, back, chest, wrists, and ankles. It works at the inner layers of tendons, muscle tissues, and fascia which are pain-free.
Here are the best reasons you should consider buying this 6-level massage gun for your body massage:
High-performance
The mark of a good fascial gun lies in its performance and here, you are assured of it. This POWERFUL VIBRATION massage gun features 500-2400 strokes per minute. What distinguishes it is that you won't feel the vibration but feels like real percussion when the machine starts its work. You won't feel like pushing the massage gun to its limit thanks to its well-built profile and sturdy material. It's perfectly designed to free areas of tissue that are stuck and let the muscle recover.
Recommended: How to Make the Most of Daraz 11.11 2023 Shopping? Find 10 Best Tips
Ergonomics
Comfort is another key here. While carrying the device in your hand, it will fit with perfection. The ERGONOMIC HANDLE, POWER PUSH BUTTON, AND HEAD let you reach any "pain points" with ease. Maneuver the four types of massage heads as needed to any sore spots in your body and let it improve your muscle tissue and blood flow.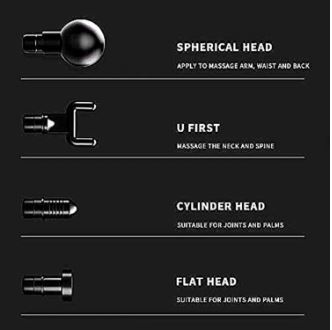 To relieve the pain
The muscles can incur rough tension after a gym or an athletic activity. Don't rule out such occurrence even if you are just a regular individual, just like me who goes to work and come back home and start over. And our muscles can feel so tired at times. That's when you can use this 6-speed level massage gun to GIVE YOUR HARD-WORKING BODY AN AMAZING TREAT. The machine effectively breaks up the knots in the muscles and relaxes them. The high-octane pulsating action goes deep into the muscle and removes all your aches and pains. It makes you almost feel like the massage gun injects life back into the weary and teary muscles and you can start your activities afresh.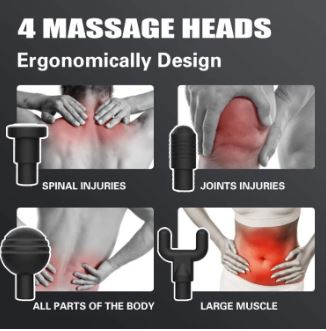 Check out:
Best at home or Gym, and for all
This product is small compact and ergonomically well-designed. Whether you are at the office, at home, or at the gym, you can use it effortlessly and at your convenience. Unlike traditional percussion tools, this one offers an EXTREME LEVEL OF COMFORT AND RELIEF WITHOUT NOISE. It's perfect FOR BOTH MALE AND FEMALE ATHLETES, BODYBUILDERS, RUNNERS, SWIMMERS, WEIGHTLIFTERS, AND REGULAR INDIVIDUALS. More particularly, this product is perfect for those suffering from sclerosis, arthritis, and muscle atrophy.
Don't miss: Best Digital Accessories To Buy on Daraz 11.11 2023
You can use the fascial massage gun for 15 minutes to get the results. It works on the built-in battery.
What do you get in the box?
In the box, you get 1 unit of the fascial gun, 4X different massage heads, and a user manual.
Specifications
Product: Muscle massager
Application: Fitness and wellness massage
Amplitude of oscillation: 12 mm / 0.47 inch
Speed: 1200-3300r / min
Battery: 24 V 2400 mAh
Work time: Up to 6 hours
Charging time: 2 hours
6-Level Fascial Massage Gun price on Daraz
So, if you are looking for this product for your muscles relaxation, this is the right time to buy. The 6-level fascial massage gun is now available on Daraz at the DISCOUNT PRICE OF RS 1,449 against its original cost of Rs 2,499. You are getting a MASSIVE 42% Discount.