Nepal's biggest online shopping carnival Daraz 11.11 has returned with bigger, better, and more epic deals than ever. Daraz Nepal, the country's largest online shopping platform has announced the much-anticipated 11.11 sale bringing the whopping mega voucher of Rs 10,000, mega deals of up to 80% off, up to 2,500 prepayment discounts, nationwide free delivery, and more. The Daraz 11.11 2023 campaign begins on November 11 and runs through November 22 (which is Kartik 25 to Mangsir 6, 2080). Here, you find all the best deals, mega deals, prepayment discounts, benefits, and all. Keep reading.
Daraz 11.11 2023 highlights
Daraz 11.11 is the company's grandest shopping campaign of the year. During this online shopping fiesta, you get your favorite products at unmatched discounts, benefit from free delivery, and can double down on your savings with vouchers, and prepayment discounts. In sum, these are the reasons Daraz 11.11 2023 is your best campaign to shop on Daraz:
Up to 80% off
Mega vouchers worth Rs 10,000
Up to Rs 2,500 with prepayment discounts
Free delivery
Add to Cart
A total of Rs 7 crore discounts on lakhs of products on Daraz, and plenty more.
Sharing her delight at the announcement of the November 11 sale, Daraz Nepal Managing Director Aanchal Kunwar said, "Daraz 11.11 is more than just a sale – it's our way of saying thanks to our customers and sellers. We've worked hard to make 11.11 special for everyone. In addition to delivering substantial savings, we are also creating an unparalleled shopping experience. We hope you have a great time exploring all the fantastic deals on Daraz 11.11!"
Now, let's learn more about this mouth-watering shopping appeal in detail:
Mega deals and Mega Giveaway
Daraz 11.11 wouldn't be complete without mega deals and mega giveaways. This is your opportunity to buy your favorite goodies at unmatched prices. Daraz Nepal is offering up to Rs 80% in Mega Deals and prepayment discounts of up to Rs 2,500. And wait! There are other deals for you too. If you buy products of at least Rs 999 and pay via a digital prepayment platform, you will seize a chance to win the Mega Giveaway of a CG Brand Washing Machine. As per Daraz, 11 lucky winners will earn home the Mega Giveaway this year.
Mega vouchers worth 10,000
How about an epic mega voucher worth Rs 10,000? Yes, that's true. To help you make maximum savings on shopping, Daraz is offering Mega Vouchers up to an eye-popping Rs 10,000. Vouchers are your way to saving and shopping fun. Keep a note that these vouchers will run out quickly so be at your early to collect them when the clock strikes 12:00 AM on the BIG Day.
Add to Cart
During the Daraz 11.11 campaign, you can add your favorite products to the Cart and grab EPIC discounts. To participate, you only need to Add to Card and checkout on November 11, 12:00 AM. You can grab up to 80% discounts on exclusive deals. How spectacular can it be?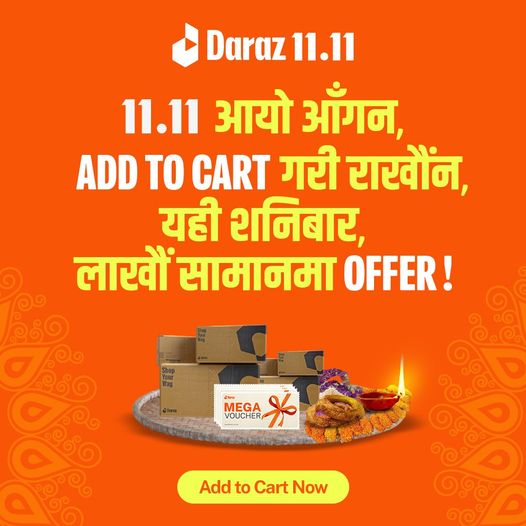 Diamond/Gold Brand partners
Daraz 11.11 2023 has authentic and quality-assured products from an exhaustive list of brands and sellers. As usual, the eCommerce giant has partnered with 8 brands that will be its Diamond Partners for this campaign. The list includes- Ultima Lifestyle, Muscle Blaze, Hada Labo, Vaseline, Cetaphil, Zuvara, Goldstar, and WOW Skin Science. Likewise, HiFuture, Phillips, Fancyra, Adidas, Mamaearth, Plum, and Fantech are its Gold Brand partners.
Did you know? You can buy pre-owned premium smartphones on Daraz at eye-catching deals.
Save more with prepayment discounts
When you shop with Daraz, you are not just spending but also making BIG savings! This has been a motto of Daraz Nepal for its customers all along and in a campaign such as the November.11, you get more chances to get concessions on your shopping. To bring you more discount opportunities, Daraz has partnered with 14 banks and 1 digital wallet that unlocks prepayment discounts during the 11.11 shopping. By using any partner banks' debit cards, you can enjoy a 15% discount (up to Rs 2,000). Likewise, if you use a credit card for payment, you get a 20% discount (close to Rs 2,500) during this campaign.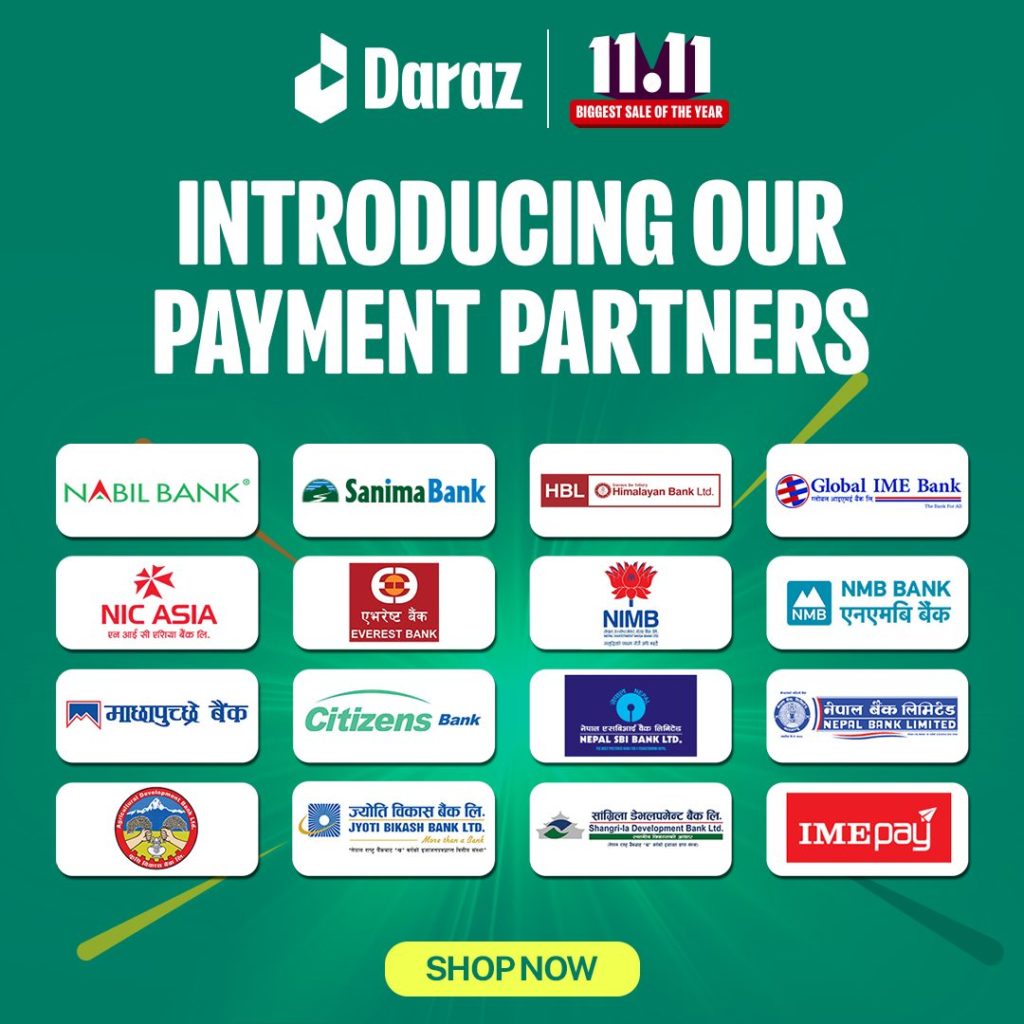 Again, if you choose to pay via IME Pay digital wallet, you earn discounts at various times on November 11. You get 15% off (up to Rs 500) between 12:00 AM to 12:30 AM and 15% (up to Rs 250) between 8:00 AM to 8:30 AM and then again between 6:00 PM to 6:30 PM.
The partner banks for the Daraz 11.11 2023 sale are Nabil Bank, Sanima Bank, Himalayan Bank, Global IME Bank, NIC Asia Bank, Everest Bank, Nepal Investment Mega Bank, NMB Bank, Machhapuchchhre Bank, Citizens Bank, Nepal SBI Bank, Nepal Bank, Agricultural Development Bank, Jyoti Bikas Bank, and Shangri-la Development Bank. Choose debit or credit cards from any of these banks to prepay on Daraz 11.11 2023, and cash in on some HEFTY EXTRA DISCOUNTS.
How to perform prepayment on Daraz?
This is how you can make prepayment on Daraz (using digital wallet or credit/debit cards):
Choose your favorite product and tap Buy Now, Place Order
Choose your choose payment option- digital wallets or prepayment cards
Enter username and password
You receive an OTP on your phone and enter it to make your payment
For credit/debit cards, tap on Credit/Debit Card
Enter your card details and save your Card
Tap on Pay Now.
Also read: How to make the most out of Daraz 11.11? Best Tips
Free delivery
A safe and free delivery will sum up your satisfying online shopping and Daraz is offering just that. What more? Free delivery is available all over Nepal wherever applicable. To have your products delivered to your doorstep for free, you need to make a minimum order of Rs 699. The service is on for exclusive selections. This offer has already been effective from November 1 and will conclude on 22.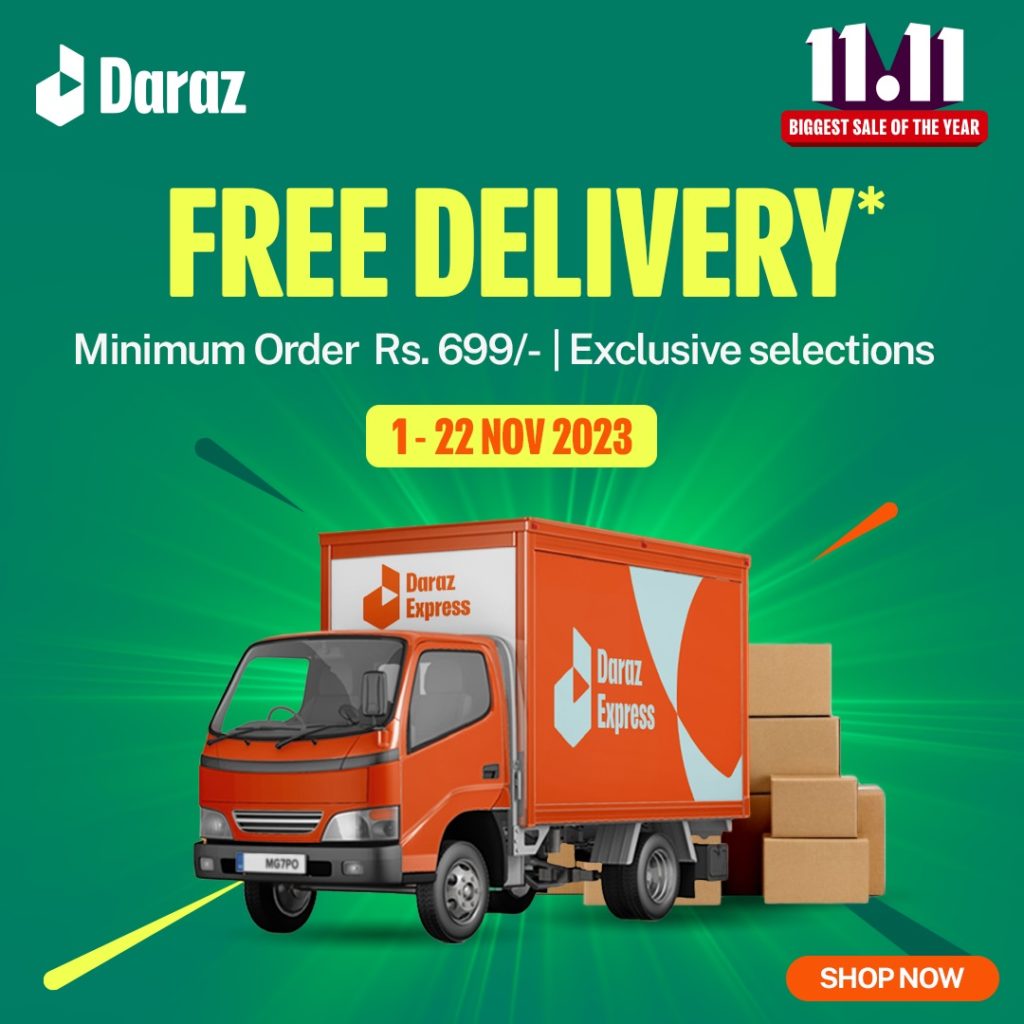 Catch up live with Subani Moktan
Just to let you know popular singer Subani Moktan will host the Daraz 11.11 Midnight Show on November 10 from 10:00 PM onwards. You can catch up with the program on the Daraz App and enjoy games, magic shows, and performances, and grab the chance to win a giveaway of 11 products at Rs 11 every 11 minutes. Additionally, you can also win vouchers worth Rs 111.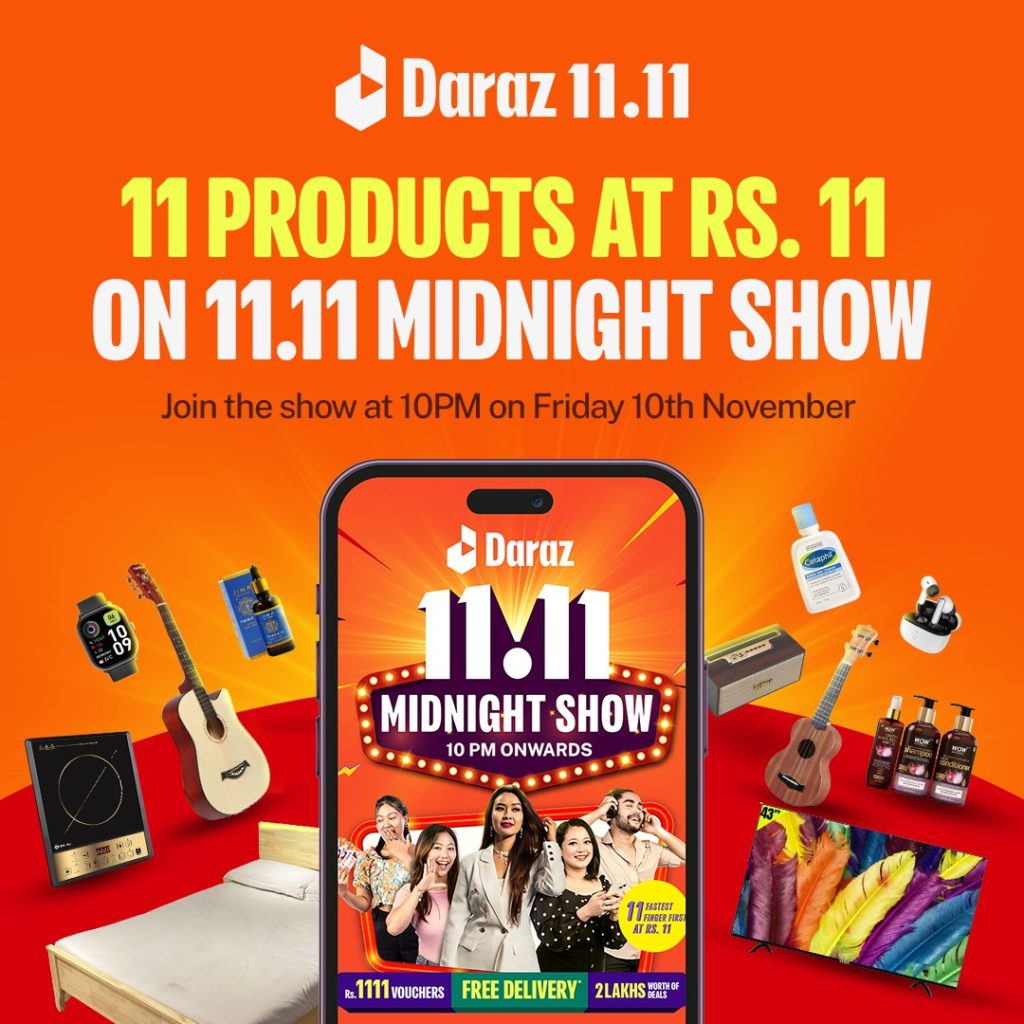 Daraz App now has a ChatGPT-inspired AskDaraz section that gives you personalized recommendations while shopping. Don't miss out on using this exciting feature.
Easy Return
In case you are not satisfied with the product delivered, Daraz has made it easy for you to return the product. As Daraz says, returning the product is as easy as buying on the Daraz platform. Daraz values its customers' demands and wants to ensure the best shopping experience for all. You can use the Daraz App to process returning the product. Use this feature when the product doesn't meet your expectations.
Why Shop on Daraz 11.11?
Daraz 11.11 comes with all the thrills, fun, and excitement of online shopping. Besides, the regular discounts, you earn a host of other discounts which elevate your shopping. Plus, you get to choose from a myriad of authentic products from popular brands and Daraz sellers. You get unprecedented discounts, deals, giveaways, and more. Besides, Tihar shopping on Daraz can make your festivities even more spectacular. You can buy any item for gifts, to furnish your room, or for winter warmth. There are lakhs of products to choose from with incredible concessions.
Some Frequently Asked Questions (FAQs) about Daraz 11.11 sale
The 11.11 sale has garnered enough curiosity among online shoppers and customers in general. There seems to be a huge fascination and desire to know more about the 11.11 among the public. So, we are here to present the most asked questions about Daraz 11.11 2023 sale:
What is the Daraz 11.11?
In simple terms, Daraz 11.11 is an annual shopping campaign launched by Daraz Nepal.
What is the time/date for Daraz 11.11 sale in Nepal in 2023?
The Daraz 11.11 2023 runs from November 11 to 22, 2023, Nepali date (Kartik 25-Mangsir 06, 2080).
Who are Daraz 11.11 payment partners?
Daraz has several banks and a digital wallet partner (IME Pay) as its payment partner for the 11.11 2023 shopping campaign.
How many Daraz 11.11 campaigns have there been so far?
So far, there have been 6 Daraz 11.11 shopping campaigns in Nepal with the latest ongoing right now.
In which countries does the Daraz 11.11 sale take place?
Daraz launches the 11.11 sale feast across its markets in Nepal, Pakistan, Bangladesh, Sri Lanka, and Myanmar.
What is the tagline for Saraz 11.11 2023 Nepal?
For its 2023 Daraz 11.11 sale, the tagline is "The Biggest Sale of The Year."
How to pay for Daraz 11.11 shopping?
To pay for Daraz 11.11 2023 shopping, you can choose to pay via Daraz's partner banks or use the IME Pay digital wallet.
What is Daraz's 11.11 2023 discount?
Daraz 11.11 2023 offers up to 80% off on a myriad of products, and there are prepayment discounts, Flat 15% discounts, store discounts, etc.
What is the total discount during the Daraz 11.11 sale?
As per Daraz, the total amount for the discounts will be worth Rs 7 crore on lakhs of the products on sale at Daraz on 11.11 2023.
For all these and plenty more, Daraz 11.11 is your ultimate online shopping destination as Daraz calls it the BIGGEST SALE OF THE YEAR!