Qualcomm has announced its latest chipset Snapdragon 7 Gen 3 for smartphones. It's a mid-range System-on-a-Chip (SoC) succeeding the Snapdragon 7 Gen 1 and let's say Snapdragon 7 plus Gen 2, and boasts 15% better CPU, 50% higher GPU performance, and 20% more power efficiency. If you prefer budget smartphones but want AI capabilities and decent performance, this chipset is for you. Let's find out the major specifications of this hardware.
The Snapdragon 7 Gen 3 is based on TSMC's 4nm process. If you have been keeping tabs on how the lower "nm" translates to higher performance potential, then you would know that even the mid-range chips are making progress in leaps and bounds. A 4nm process is decently GOOD enough for what it seeks to deliver.
Performance powered by one high-performance core
This chipset comes with one high-performance core in the 1+3+4 CPU configuration. The sole primary core rocks up at 2.63 GHz while the 3x performance cores clock at 2.4 GHz. The 4x efficiency cores run at 1.8 GHz. The octa-core setup will be tasked to handle gaming, multi-tasking, and general uses.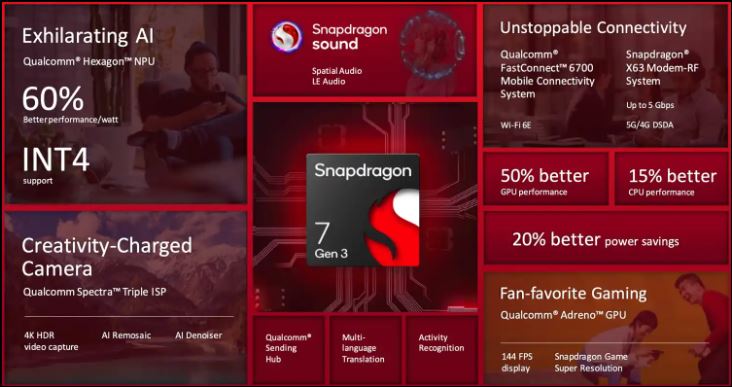 AI coming to more devices
With SD 7 Gen 3, Qualcomm has ensured higher AI capabilities for more mobile devices. The Qualcomm® AI Engine in the processor combines great power efficiency with performance. The company claims that the chipset offers 60% improved "performance per watt". Qualcomm® Sensing Hub will keep track of activity recognition and routine understanding. This enables the device to open certain apps such as music and maps.
The chipset won't compare closely when it comes to the Artificial Intelligence (AI) power of Qualcomm's greatest Snapdragon 8 Gen 3, however, it's good to see how affordable phones are also getting these "smart" features.
Improved gaming
Qualcomm says that the Snapdragon 7 Gen 3 chipset brings up to 50% faster graphic performance for HDR gaming. The home-brewed Adreno GPU supports an ultra-smooth display making the user experience more immersive. The company says that select Snapdragon Elite Gaming features will bring exceptional detail and clarity. For instance, the "Super Resolution" feature upscales the visuals while not affecting the device's battery life.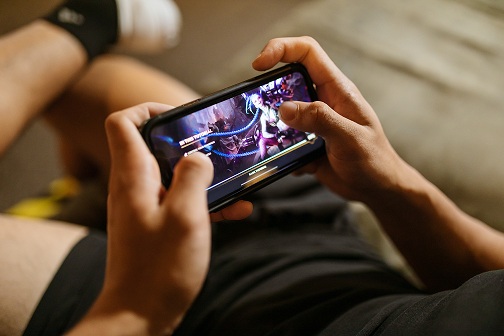 Support for up to 200 MP photos
The Snapdragon 7 Gen 3 amplifies smartphone photography with support for up to 200 MP richly detailed photos. Backed by the Qualcomm® Spectra™ Image Signal Processor (ISP), the chipset enables improved photography even in various conditions. The hardware supports 21 MP triple cameras, 32+31 MP dual cameras, or a 64 MP single camera with 30 fps and zero shutter lag. As said, it supports 200 MP photo captures and 4K HDR recording at 60fps.  
Among other features, the chipset has a Spectra™ Triple ISP that allows for simultaneous photo snaps from three lenses. Plus, AI Remosaic and AI Video Retouch produce sharp and bright images with less discoloration. It allows slow-motion video record in 1080 resolution at 120fps.
You may also like to read: MediaTek Dimensity 9300 Goes Official | Find Everything Here!!!
The exceptional speed with 5G and WiFi 6E
Backed by the Snapdragon® X63 5G Modem-RF System, the Snapdragon 7 Gen 3 supports 5G download speed up to 5 Gbps. It supports Dual-SIM Dual-Active (DSDA) 5G and 4G. In addition, the chipset features the Qualcomm® FastConnect™ 6700 system which supports WiFi 6E (IEEE 802.11ax) speeds up to 2.9 Gbps. The SoC also supports previous WiFi standards- Wi-Fi 4, Wi-Fi 5, Wi-Fi 6. And the devices which use this chipset will get Bluetooth 5.3 connectivity.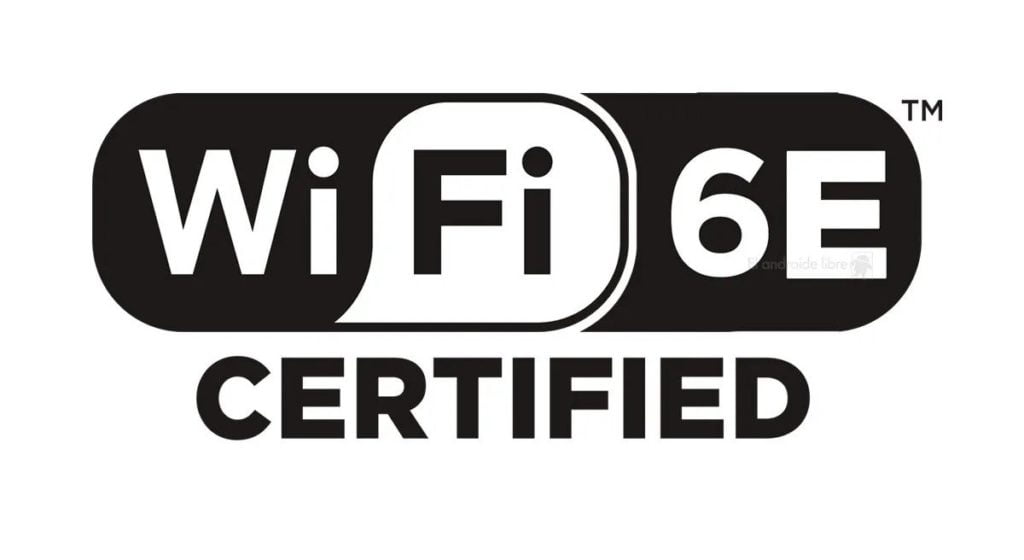 Other features
Among other notable functionality, the chipset supports Qualcomm Quick ChargeTM which can juice up the battery to 50% in just five minutes. Additionally, the SoC supports a WFHD+ display panel at 168 Hz and a WQHD+ display at 120 Hz, and External Display Resolution is supported up to 4K at 60 Hz.  
Snapdragon 7 Gen 3 devices and launch date
Honor and vivo are confirmed to launch their upcoming devices with the Snapdragon 7 Gen 3 chipset. These devices will launch later in November 2023.
The good thing with this chipset is that it brings AI capabilities across more devices. Gone are the days when features like AI, 5G, WiFi 6E, and Quick Charge technologies used to be limited to high-end devices only.