MediaTek, a global fabless semiconductor company has unveiled its latest flagship chipset dubbed as MediaTek Dimensity 9300. It is the successor to the Dimensity 9200 / 9200+ chipset. The MediaTek Dimensity 9300 processor is the world's first flagship smartphone chip to use all big cores. The chipset directly rivals the latest Qualcomm's Snapdragon 8 Gen 3 mobile platform. So, here in this article, let's know more in detail about the MediaTek Dimensity 9300 Processor below.
Read: MediaTek Unveils Dimensity 9200+ | 5G, WiFi 7, 320 MP Camera
Joe Chen, who serves as the President at MediaTek, expressed that," The Dimensity 9300 is MediaTek's most powerful flagship chip yet, bringing a huge boost in raw computing power to flagship smartphones with our groundbreaking All Big Core design. This unique architecture, combined with our upgraded on-chip AI Processing Unit, will usher in a new era of generative AI applications as developers push the limits with edge AI and hybrid AI computing capabilities."
MediaTek Dimensity 9300 Processor Specifications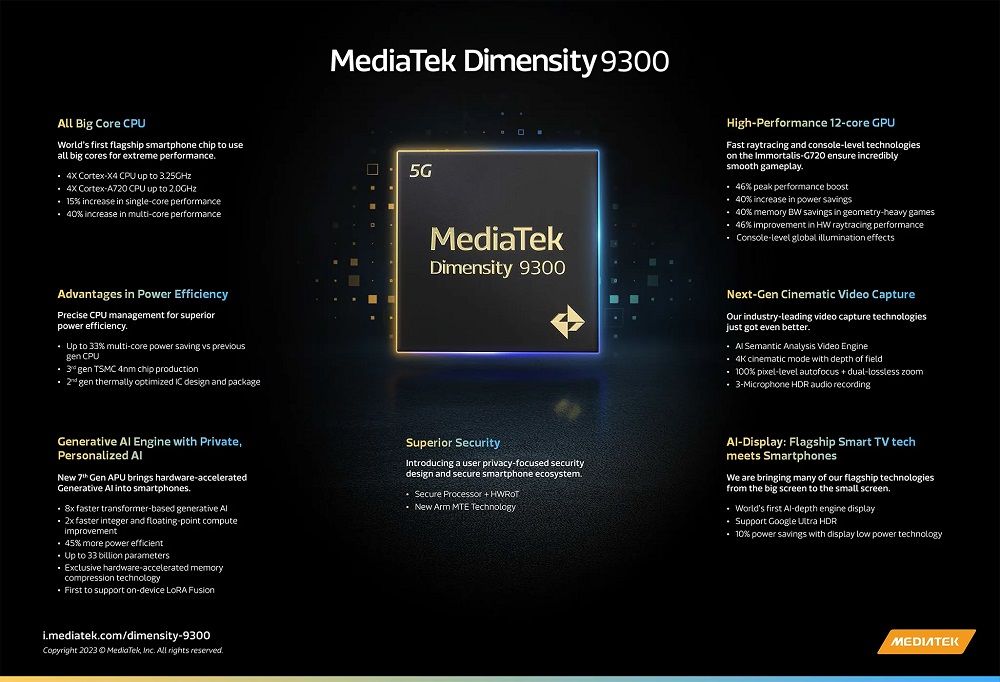 Display
The MediaTek Dimensity 9300 features an enhanced display experience with the advanced MediaTek MiraVision 990 display driver architecture. It supports WQHD displays at up to 180Hz and 4K displays at up to 120Hz, providing smoother and more detailed visuals. With dual active display support, it caters to foldable devices' demands. Google Ultra HDR display support ensures high dynamic range visuals and MediaTek True Color enhances HDR video experiences.
The Dimensity 9300 also utilizes AI-display technology with AI depth engine quality for optimal image quality, and it introduces intelligent display power-saving technology for improved battery life, resulting in an average power reduction of 10%. It also features a dedicated display power domain and anti-burn-in technology for OLED displays, making it a compelling choice for devices requiring top-notch display performance.
Flagship Performance 4nm SoC With All Big Core Design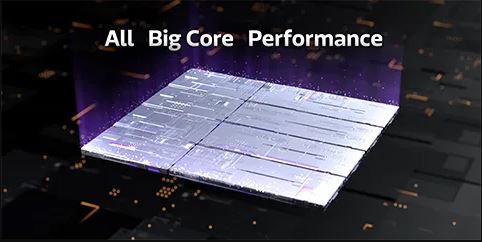 The MediaTek Dimensity 9300 processor introduces a groundbreaking All Big Core architecture, representing MediaTek's most powerful flagship chip to date. It introduces the latest Arm Cortex-X4 and Cortex-A720 processors, marking the world's first flagship smartphone chip to employ an all-big core configuration, including four Cortex-X4 and four Cortex-A720 processors for enthusiasts seeking ultimate performance. This innovative design translates to a 15% single-core performance boost and a substantial 40% improvement in multi-core performance. 
The processor's capabilities include four Cortex-X4 performance cores, each clocked at 3.25GHz, and four Cortex-A720 efficiency cores reaching 2.0GHz, all operating on a third-generation TSMC 4nm chip production. Furthermore, MediaTek's expertise in power efficiency control results in up to 33% power savings in multi-core performance compared to the previous generation CPU, making it a top-tier choice for high-performance applications and devices.
Memory 
The MediaTek Dimensity 9300 features LPDDR5T memory technology with a maximum frequency of 9600Mbps, ensuring fast data access. It also supports UFS 4 storage with MCQ technology for quick data read and write speeds, enhancing overall device performance.
GPU and Gaming
The MediaTek Dimensity 9300 features the Arm Immortalis-G720 MC12 GPU, a cutting-edge raytracing GPU with a remarkable 46% improvement in hardware raytracing performance compared to the previous generation. This GPU architecture also offers 40% power savings and a 40% reduction in memory bandwidth usage in geometry-intensive game scenes. It is combined with the chipset's powerful 8-core CPU design and its 2nd generation hardware raytracing engine, the Dimensity 9300 provides gamers with fast and full raytracing experiences at a smooth 60 FPS, achieving console-level global illumination effects. 
Additionally, the MediaTek HyperEngine Adaptive Gaming Technology ensures flagship performance during extended gaming sessions, maintains a cooler smartphone, and offers up to a 15% improvement in power efficiency for popular game titles, allowing users to enjoy extended gameplay.
Camera
As for photography, It supports a maximum camera sensor resolution of 320MP. The chip integrates Imagiq 990, part of the 9th Generation Imagiq series, and advances cinematic video capture with improved efficiency and AI integration. It also offers video capture at 8K30 (7690 x 4320) and 4K60 (3840 x 2160). It incorporates an 18-bit RAW ISP design with AI Semantic Analysis Video Engine for scene segmentation.
Additionally, it includes a 4K cinematic mode, 100% pixel-level autofocus, dual-lossless zoom, and Standalone Optical Image Stabilization (OIS) that triples stabilization speed, making it a comprehensive solution for high-quality photography and videography.
Connectivity
The MediaTek Dimensity 9300 offers comprehensive connectivity options, supporting a wide range of cellular technologies from 2G to 5G, including Sub-6GHz and mmWave. It includes advanced features such as 5G/4G Dual SIM Dual Active capability, SA and NSA modes, 4×4 MIMO, and 256QAM for enhanced data transfer. The chipset also boasts compatibility with multiple global navigation satellite systems, such as GPS, BeiDou, Glonass, Galileo, QZSS, and NavIC. For wireless communication, it features Wi-Fi 7 technology, supporting various Wi-Fi standards, and Bluetooth 5.4 for seamless connectivity. These connectivity options make the Dimensity 9300 an ideal choice for a wide range of devices and applications.
Also, check out: Qualcomm Launches Snapdragon 8 Gen 2 Launched With Hardware Ray Tracing
MediaTek Dimensity 9300 Vs Qualcomm Snapdragon 8 Gen 3 
The comparison of both the flagship chipsets was inevitable. The MediaTek Dimensity 9300 and Qualcomm Snapdragon 8 Gen 3 processors offer distinct advantages in various aspects. The Dimensity 9300 stands out with its exceptional camera capabilities, supporting a maximum sensor resolution of 320MP and versatile video capture options, making it a solid choice for photography enthusiasts. Additionally, it excels in display support, offering high refresh rates and resolutions for immersive visuals. 
In contrast, the Snapdragon 8 Gen 3 impresses with its robust AI capabilities and advanced connectivity features, thanks to the Qualcomm AI Engine and FastConnect 7800 for Wi-Fi, making it a top pick for AI-driven and connected devices. Both processors share a common 4 nm process node, ensuring a balance of power efficiency and performance. The decision between these processors depends on the specific requirements and use cases of the target device.
Dimensity 9300 Availability & Supported Device 
The MediaTek Dimensity 9300 Processor will be released by the end of 2023. Similarly, the Vivo X100 series will be the first device to be powered by the chipset. So, what are your thoughts about the Flagship Chipset Dimensity 9300? Let us know in the comment section below. 
Don't Miss: Official & latest Vivo Mobile Price in Nepal