Qualcomm has announced its new flagship chipset Snapdragon 8 Gen 3 at its Snapdragon Summit. The new mobile platform is built using the 4nm process and comes with a major focus on generative AI, including improvements in power efficiency, performance, gaming, audio, and video. Here, we have all the details from the US company's latest System-on-a-Chip (SoC) hardware that will power premium smartphones "in the coming weeks" and in more devices in 2024.
"Snapdragon 8 Gen 3 infuses high-performance AI across the entire system to deliver premium-level performance and extraordinary experiences to consumers.  This platform unlocks a new era of generative AI enabling users to generate unique content, help with productivity, and other breakthrough use cases." said Chris Patrick, senior vice president and general manager of mobile handsets, at Qualcomm Technologies, Inc. "Each year, we set out to design leading features and technologies that will power our latest Snapdragon 8-series mobile platform and the next generation of flagship Android devices. The Snapdragon 8 Gen 3 delivers."
Key features of Snapdragon 8 Gen 3
30% faster and comes with a 1+5+2 configuration
Before we get to the features, let's first start with the speed bump. Snapdragon 8 Gen 3 (S8G3) is 30 percent faster and 20 percent more power efficient than the previous generation Snapdragon 8 Gen 2 chipset. And the company has continued increasing its performance cores lowering the refresh cores. That is S8G3 comes in a 1+5+2 core configuration where the 2 efficiency cores run at 3.3 GHz, 5 performance cores can clock up to 3.2 GHz, and the 2 efficiency cores clock up to 2.3 GHz.
Meanwhile, the new Adreno GPU will provide a 25% performance boost and 25% power efficiency. It is also certain that the SoC will serve for paunchy and immersive gaming experience on the upcoming high-end smartphones with this chip.
Supports up to 24 GB RAM
Likewise, the chipset supports up to 24 GB RAM with its LPDDR5x memory. So, you shouldn't be surprised if more smartphones come with massive RAM specs in 2024. And there's more. For broadband connectivity, the Snapdragon 8 Gen 3 supports WiFi 7 including the other standards- 802.11be, 802.11ax, 80211ac, and 80211a/bg/n. To make it clear, it supports the 6 GHz, 5 GHz, and 2.4 GHz bands for wireless connection. Qualcomm says that the chipset boasts 2.5x AI power to offer faster, power-efficient operation. With next-generation WiFi capability support, you could get speed up to 5.8 Gbps thanks to the Qualcomm® FastConnect™ 7800 system.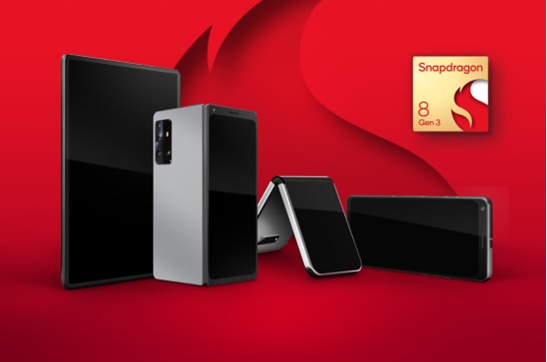 For cellular function, the chipset enables connection for 5G with X75 5G modem with both sub-6 6 GHz and mmWave. Theoretically, the powerful chipset enables 10 Gbps download and 3.5 Gbps upload speed. It's also certain that the chipset will support the Snapdragon Satellite feature which enables smartphones to have satellite-powered communication serving as an excellent choice for communication in the absence of cellular connectivity.
Snapdragon 8 Gen 3 brings major upgrades to Generative AI
Qualcomm's Snapdragon 8 Gen 3 will transcend generative AI capabilities on smartphones and the tech in general. The chipset has an advanced AI engine that supports larger areas of generative AI models and large language models for speech recognition.
Also check out: Qualcomm announces a 4nm-based Snapdragon 7s Gen 2 chipset
AI responses get more capable
As per Qualcomm, S8G3 can run 20 tokens per second for AI responses. The stable diffusion of the chip can generate an image in a second. The Sensing Hug tech gathers users' personal data such as favorite activities, fines level, and location to provide better AI assistant responses.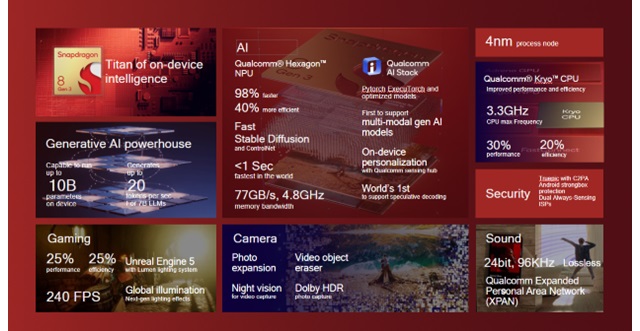 Quad-camera up to 200 MP
The Snapdragon 8 Gen 3 chipset supports a quad-camera setup with the main camera being 200 MP. Powered by the Qualcomm® Spectra™ ISP and AI, the chipset brings incremental improvements to photography. The Semantic Segmentation enhances the details in real-time and Night Vision brightness a dark setting resulting in bright imagery.
The object eraser feature lets users remove undesirable objects or people from a video. Vlogger's Viewer can capture both videos from your selfie and the back camera. The Photo Extension feature lets you use the Generative AI to expand the image beyond its original border which can be helpful for creating wallpapers. "AI-based auto-exposure, Engine for Visual Analytics 3.0, Multi-frame Noise Reduction (MFNR), Locally Motion Compensated Temporal Filtering (MCTF), Real-time Semantic Segmentation, Truepic photo capture" are some of the key camera features coming with the Snapdragon 8 Gen 3 SoC in 2024.
Likewise, the chipset allows 8K video capture at 30 fps and 4K recording at 120 fps. You can play 8K video at 60fps and supports HDR10, Dolby Vision®, H.265, etc. Don't miss: Semiconductor Manufacturer TSMC to Produce 3nm and 2nm Chips
Smartphones confirmed for the Snapdragon 8 Gen 3 chipset
Qualcomm says that Snapdragon 8 Gen 3-powered smartphones will launch soon in 2023 but will be prominent in 2024. The SoC giant has partnered with brands such as OPPO, realme, Sony, vivo, Xiaomi, Asus, Honor, ZTE, and OnePlus so smartphones from these brands are coming with this latest 4nm chipset from the US foundry.
So far, it's confirmed that the upcoming Xiaomi 14 series, the OnePlus 12, Realme GT5 Pro, and iQOO 12 will be the initial smartphones to be powered by the blazingly powerful chipset. Among all, Xiaomi 14 and Xiaomi 14 Pro launching on October 26 will be the first smartphones to feature Snapdragon 8 Gen 3 SoC under the hood