Amidst the COVID-19 pandemic, the Nepal government has implemented a lockdown. People are forced to stay at home with nothing much to do but consuming a lot of the internet. Many people are also working from home, which requires a continuous internet connection. Keeping this in mind, Smart Cell has launched its special lockdown pack offer with large volume (2GB per day *30=60 GB) data at an affordable rate. They also brought a combo pack with unlimited calls at a reasonable price. During this lockdown, Smart Cell is also providing up to 4X bonus on recharge.
4X Bonus on Recharge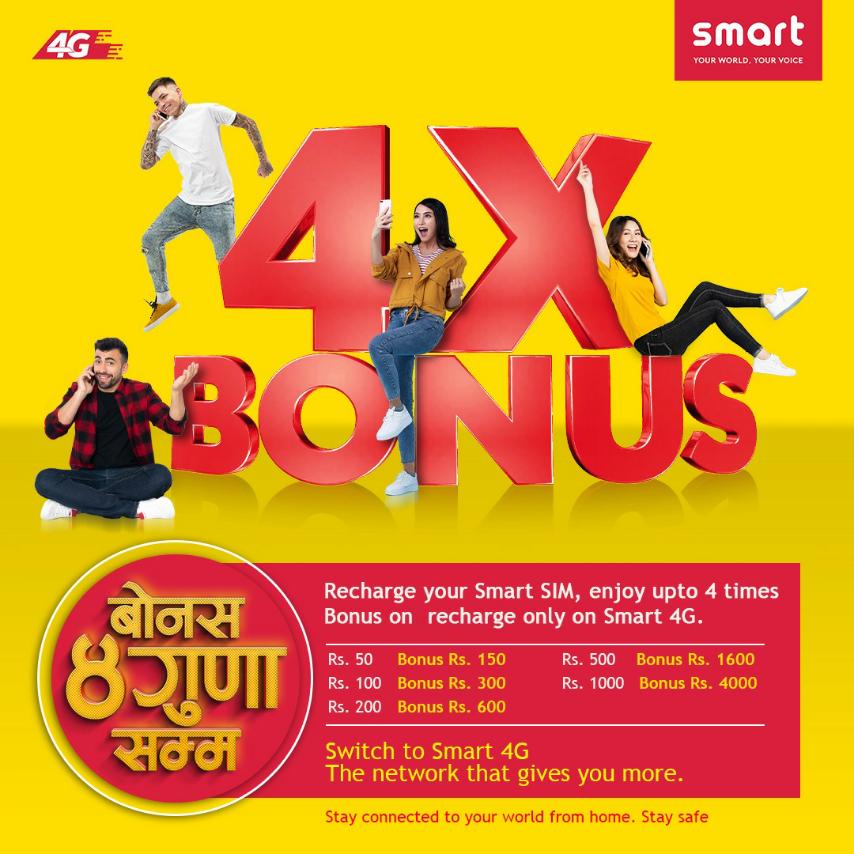 Smart Cell has brought this 4X bonus on recharge offer with which you can get up to 4X balance after recharging some amount. This bonus on recharge is applicable for all recharges above Rs 50. The amount is 3X for Rs 50, Rs 100, and Rs 200 and increases for Rs 500 and Rs 1000. Find the table below for the bonus amount on recharge along with the validity date.
| | | | |
| --- | --- | --- | --- |
| Recharge | Main Balance | Bonus Balance | Validity of bonus (days) |
| 50 | 49.02 | 150 | 1 |
| 100 | 98.04 | 150+150 | 7 |
| 200 | 196.08 | 300+300 | 15 |
| 500 | 490.20 | 800+800 | 30 |
| 1000 | 980.40 | 2000+2000 | 30 |
The bonus amount can be used for on-net calls, on-net SMS, PayG data. You can not use it to buy any packages.
Heavy data package (60GB data)
The data package offered by the company is targeted towards the people who are working from home. The package includes 2GB per day data for 30 days which is equal to 60GB of data. The cost of this package is Rs. 465.97 (Rs. 595 including tax). This offer is valid for 30 days. This package is advantageous to all the WFH (work from home) professionals who use heavy data from mobile and even laptops.
You should understand that the 2GB of data for a day will not be carried over for the next day. Similarly, you can only purchase this data for one time until 30 days is completed.
Weekly Combo data pack and unlimited voice
Then there is a weekly combo data pack which includes unlimited on-net voice and 3GB data. The package cost is Rs. 98 including tax. The validity of the package is for 7 days.
Smart Cell Lockdown Offer Summary
Here is the summary of the Smart Cell Lockdown offer.
| | | | | |
| --- | --- | --- | --- | --- |
| S.N. | Data volume | Voice | Validity | Cost (Including Tax) |
| 1. | 2GB per day for 30 days= 60 GB | Not Included | 30 days | Rs. |
| 2. | 3 GB | Unlimited On-net Calls | 7 days | Rs. 98 |
Consumers can buy the package of their choice by dialing *141#  or by using the Smart Cell App. You can learn more about the important numbers in Smart Cell for the subscription.
These packages, offered as a part of their Corporate Social Responsibility, are sure to help their customers by providing them with a large amount of data at a reasonable price. But, these packages only seem to be targeted towards their customers in urban areas. Most of the provided packages seem reasonable for the 4G network and the telecom operator has 4G coverage in only 19 districts of Nepal.
Smart Telecom, the telecom company that owns the Smart Cell brand has been expanding its mobile coverage but at a slower pace. They first started providing service in the year 2008. It is the third-largest telecom brand after Ntc and Ncell.
Read more on the other offers of Smart Cell >>
Most of the people who are lucky to get stable network coverage of Smart Cell are found to be fully satisfied with the service and the offers. Whereas there are some people who could not get the Smart Cell network at all or it's unstable, seemed to be complaining a lot about them. Which one are you?? Please comment on your suggestions and feedback for Smart Cell, below.