Worldink wins Nokia GTFF (Get to fast faster) Fixed Network Customer Award 2022. The Finnish tech giant has awarded Worldink for bringing 'Home Connectivity Service Innovation' to Nepal. In this article, let's know more about the award and word from the officials.
Nokia GTFF Fixed Network Customer Award 2022
Nokia's Network Infrastructure, FN CTO, and Solution Support Lead of the MCA Department Sary Annie said, "Worldlink has been awarded in the Service Innovation In-Home Connectivity category for playing a leading role in bringing Nokia Wireless Cloud Controller, which connects customers even in adverse conditions such as mountains, ice, and snow, rivers, and wildlife." Wordlink bagged this award for home connectivity service innovation in the internet market of Nepal. The Finnish tech company awarded Worldlink in the Get To fast Faster (GTFF) 2022 event held in Singapore. The event commenced on December 7th and concluded on December 8th, 2022.
Check out: Worldlink Internet Packages, Price and Offer
Nokia and Worldlink Partnership
Nokia and Worldink have been partners with the ISP using Nokia Beacon Mesh access points. Worldlink introduced its high-speed Photon packages and since then, using the Nokia Beacon Mesh for enhancing the speed and service. The Beacon 1.1 uses Nokia's WiFi Mesh technology to overcome barriers such as internal walls to deliver seamless and reliable internet connectivity. It helps to provide better connectivity for every device, improving the in-home Wi-Fi experience.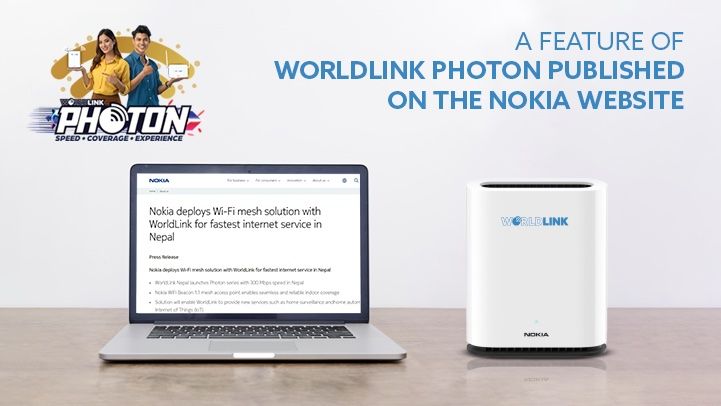 Have a Read:- WorldLink Launches 1 Gbps Internet Package with Mesh WiFi
About Worldink
Worldlink is the biggest ISP in Nepal in terms of user base in Nepal. This ISP has over 7 lakh subscribers with the user number exceeding 30 lakhs. Also, the company has done a commendable job in reachability. Its internet is available all over 7 provinces and 74 districts in total. As per Nepal Telecommunications Authority (NTA), Worldlink holds a 35% market share in the fixed-line internet market.
Do read: Fiber internet subscribers in Nepal | Worldlink leads
It also has 14,000 Free WiFi hotspots across the major cities in Nepal for free internet connectivity. Being such a big enterprise, Worldlink is also fulling its corporate social responsibility. Recently, the company brought Worldlink Internet Education Program for creating awareness and the safe use of the internet among teenagers and students.
It also won the ICT Award from Madhesh Province in August 2022 for its contribution to the province's growing economy. Worldlink's high-quality internet connectivity has fueled the growth of the state's economic transformation in the ICT sector.
Do Check:- WorldLink Internet Reaches 7 Lakh Households Across Nepal
So, this was all about Worldink winning service innovation for in-home connectivity category of Nokia GTFF Fixed Network Customer Award 2022. Are you using Worldink's internet? How is your user experience? Do share with us your views, opinions, and thoughts in the comment section below.