Nepal Telecom (NTC) has increased the speed of its NT fiber internet packages on the occasion of Dashain and Tihar festival 2080. Under this offer, the company has bumped its internet bandwidth speed to 250% for individual customers on their existing speed. They have also started a slogan for this campaign as "Jati bhanchau.. Tyati Dinchau"… which means we will give the same speed as we say. This promotional offer is available for NT Fiber's Individual Package and Promotional Package and is effective from 2080, Ashoj 25.
In this promotional offer, the company has increased the bandwidth speed of its highly popular NT Fiber services to 250%. The attractive scheme addresses customers' interest and excitement with Ntc fiber internet packages.
Nepal Telecom festival offer 2080 ups your NT Fiber internet speed to 250%
With the Nepal Telecom festival offer for Dashain, Tihar 2080, the company has bumped the 10 Mbps NT Fiber package to 25 Mbps at the same price. The 20 Mbps or 30 Mbps plan's bandwidth speed has been increased to 50 Mbps. So, now the minimum speed of NT fiber package for individual customers is 25 Mbps.
Likewise, the customers will get the 40 Mbps package increased to 100 Mbps at the same existing price. The company said that it will provide 80 Mbps internet at 150 Mbps with no increase in the cost. At the same time, customers will have a better Fair Usage Policy (FUP) data volume threshold. This will allow them to more internet consumption with premium performance.
| | | |
| --- | --- | --- |
| Current Packages | Promotional speed | FUP data per day |
| 10 Mbps | 25 Mbps | 25GB |
| 20-30 Mbps | 50 Mbps | 50GB |
| 40 Mbps | 100 Mbps | 100GB |
| 80 Mbps | 150 Mbps | 150GB |
Under this promotional offer, customers with an annual plan above 30 Mbps speed will also get 300 MB daily mobile data. For a year, you get 106GB mobile data that you can use for your regular internet outside your home. To get this free mobile data with fiber internet subscription, you need to dial *1416# and follow the prompts.
How to get the Nepal Telecom fiber connection?
Similarly, to get Ntc fiber connection or for demand, you can also call at 198, request for connection, and also get more information about NT Fiber services. Upon to the applicable NT Fiber packages, you receive the popular Triple Play combination of services- NT TV, Fiber Internet, and Voice services. All these come via a single fiber cable.
You can choose either of the packages as per your need and necessity. At the same time, the generous FUP will ensure an even better browsing experience with this offer.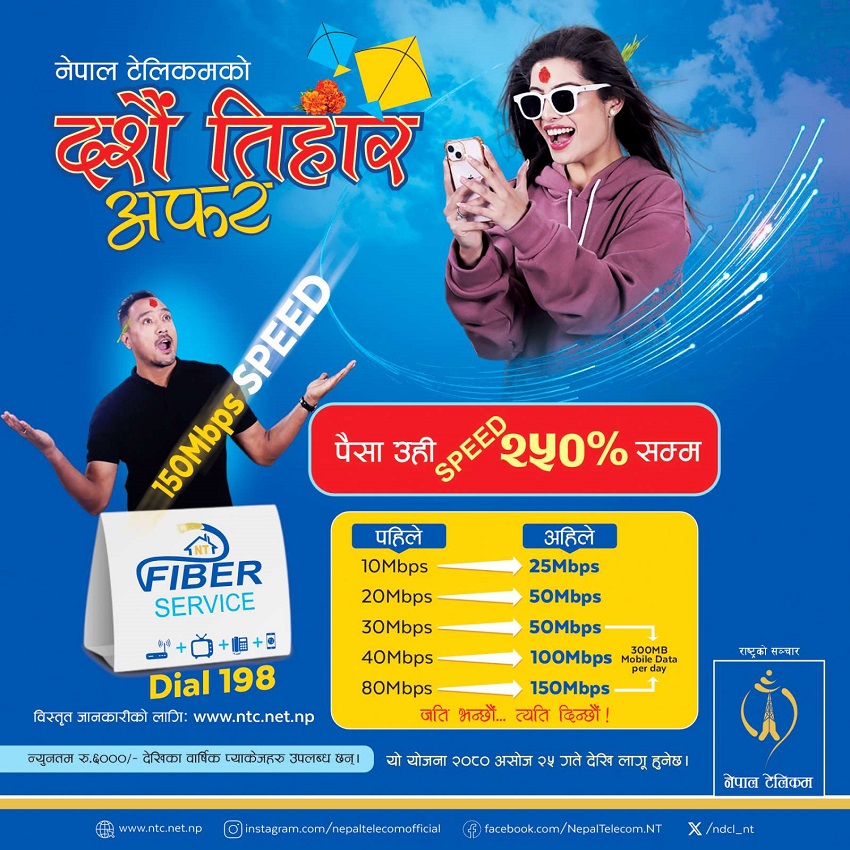 Also read: Nepal Telecom Brings a Dozen of Offers for Corporate Users
With the launch of this highly attractive scheme, people have started to praise Nepal Telecom for this boosted speed. Although Ntc has informed that this offer be live from Ashoj 25, it seems they have already provided the said speed to existing customers. You can also test the Ntc fiber net speed and feedback about it to us or comment. Find the process to check the internet speed on your computer/mobile.
As known, you can only buy the newly increased speed in the fiber package from Thursday.
To learn more about Ntc Festival offer 2080 on its fiber Internet and other services, leave your query in the comments below.