In this post, we explore the top reasons you can easily choose the Nepal Telecom (Ntc) fiber internet to fulfill all your internet needs. With high-speed fiber internet, TV, Voice, and High-Speed Internet coming in the same package, NTC's Fiber-to-the-Home (FTTH)-powered "NT Fiber" ticks all the right boxes for complete broadband connectivity. Once installed, for either home WiFi internet or offices, you can stay assured of highly reliable and quality services from the company. Since ADSL to Fiber migration started, Ntc's fixed-line service has caught a huge traction which is reflected by NTA's monthly MIS data as well. Its' Triple Play is one of the major trends in the internet market in Nepal and you can't afford to miss it. Additionally, if you were unaware, you can simply call Ntc and apply for the installation of the internet service. It's that easy. In this post, we enumerate the top 10 reasons why Ntc's fiber internet package can work best for you.
BEFORE WE BEGIN: Currently, the state-backed communication company has extended its Dashain-Tihar offer 2080 for its Fiber-to-the-Home Internet (NT Fiber) subscribers with up to 250% increase in speed. The offer comes with a large number of perks to the subscribers. Find out how the offer elevates your subscription in the section below along with the Fair Usage Policy (FUP).
Up to 250% increase in existing NT Fiber packages with Dashain-Tihar offer 2080
As part of its Dashain-Tihar offer, Ntc has increased the speed up to 250% on the current packages. That is if your current NT Fiber internet is 10 Mbps, the offer will render it 25 Mbps. The 20 Mbps and 30 Mbps packages are promoted to 50 Mbps. Likewise, the 80 Mbps fiber internet package is increased to 150 Mbps. This is the continuation of its Dashain-Tihar festival offer for 2080. In the table below, you can find the current and upgraded bandwidth speed along with the generous FUP for each package.
Dashain-Tihar Offer 2080 for Ntc fiber internet packages
Previous speed
Offered speed
FUP per day
10 Mbps
25 Mbps
25 GB
20 Mbps
50 Mbps
50 GB
30 Mbps
50 Mbps
50 GB
40 Mbps
100 Mbps
100 GB
80 Mbps
150 Mbps
150 GB
These packages are effective from Ashoj 25 and apply only to annual plans which cost a minimum of Rs 6,000. Find the price of all the Ntc fiber packages.
Now, let's cut to the chase. Why you should install Ntc's fiber internet service. Explore the best reasons in detail below.
Top 10 reasons to choose Ntc Fiber internet
Here are some of the key reasons, NT Fiber or Nepal Telcom's fiber internet plans could be your best deal (with this offer, the deal might turn from better to the best!).
Up to 250% speed increase
Up to 4 different services (internet+voice+TV+internet) in one fiber internet package
Dual-band 5 GHz router
The speed as promised
1 free phone line
Up to 1 Gbps XG-PON fiber internet, etc.
1. Get world-class fiber internet, call, and IPTV
With NT Fiber comes a high-speed fiber internet connection. Ntc has already expanded the FTTH package to the majority parts of the country. The technology allows the company to provide HD voice, high-speed internet, and IPTV (NT TV) services IN ONE BUNDLE package via a single fiber cable. It's also called a Triple Play service.
This package is currently one of the most well-received services from Ntc. Multiple benefits, reliability, quality, and affordable cost have made it the customers' favorite. Likewise, there is a triple play offer of Rs 12500 with which you get 50 Mbps internet plus Wait, there's more.
2. 3 Plus 1 in one package
The same Ntc FTTH fiber internet package also comes with a free mobile data feature on an annual subscription. That is, upon subscription comes with a high-speed broadband internet connection, IPTV with all of your favorite television channels, telephone, and mobile data services. You can choose to use either or all of the four services while buying the package. That is why, NTC has branded it the "3 Plus 1" package. This is probably one of the most appealing reasons to choose Ntc fiber internet packages.
3. High-quality service via underground cables
To provide reliable and high-quality NT Fiber service, Ntc has laid underground cable from its primary network from the main system to the fiber distribution cabinet (FDC). So, all the cables for the service remain beneath the surface. Aerial network is used only to distribute fiber connections to the customers.
The image below shows the cover of a hole which carries the underground fiber cables of Ntc underneath the ground. You can also see such manholes in your place.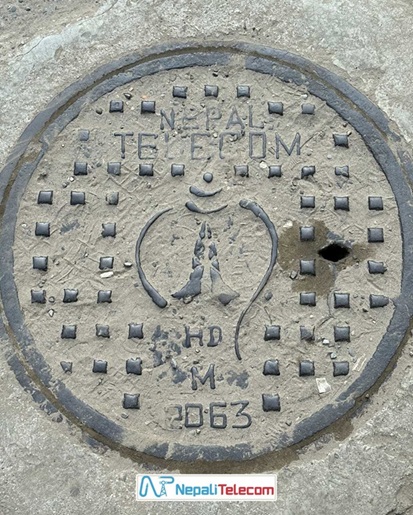 Because they are underground, the cables are less suspicious of breakage and other damage. This ensures better quality service too. Laying cables underground is considered safer and more reliable than using overhead connections. Ntc is Nepal's sole company providing internet service through underground cable.
Also read: Nepal Telecom Brings a Dozen of Offers for Corporate Users
4. Dual-band CPE for the performance promised
Ntc has started combining its fiber internet services with dual-band routers (CPE devices). Traditional routers use 2.4 GHz frequency, but dual band router has additional 5 GHz frequency as well (with higher capacity and lower interference). Since this is used in most routers and other devices, using a traditional router incurs network interferences resulting in lower speed, disconnection, and speed fluctuation. A dual-band router addresses this and delivers an optimum performance.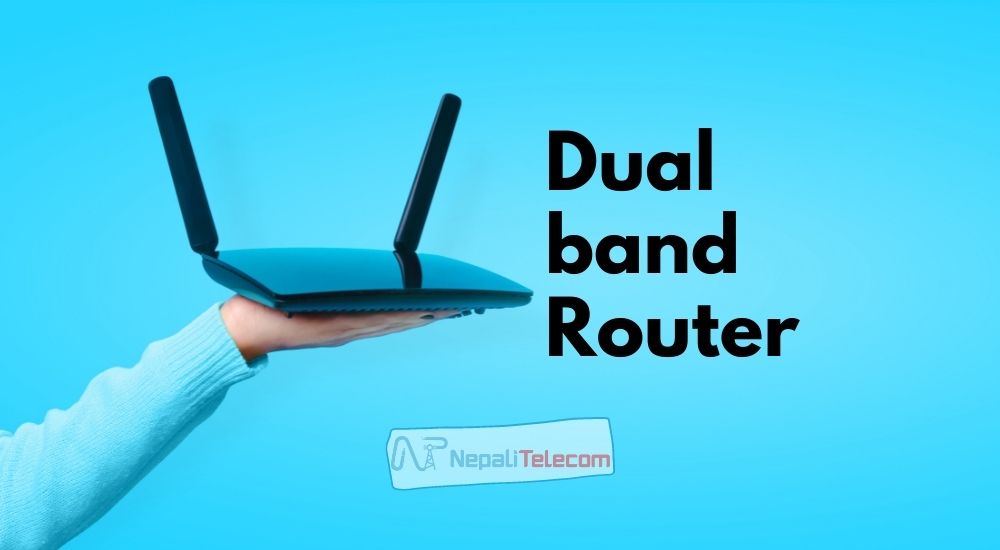 A dual-band router aka 5G router can switch between either of the bands depending on the situation to provide a satisfying internet connection. If you want to know just how big a difference using a dual-band router makes, read this post.
Likewise, you can use NT Fiber Internet with a dual-band router in the package and stay assured of the performance you are promised.
5. Get the speed you pay for
Nepal Telecom provides 25/50/100/150 Mbps NT Fiber packages. As per the company, customers get the speed they subscribe to with no data rate fluctuation. Just imagine the frustration of buying a high-speed package but getting far below what's promised. Some even get below 1 Mbps in some situations. Sadly, such occurrences are too frequent. We frequently hear internet customers getting lower speeds in their connection than what they have paid for. Ntc says that such a disservice won't happen to its customers. This helps greatly in real-time when you are downloading a file, watching a video or even streaming. You don't get glitches or disconnection in between with constantly the promised speed.
Here is a snapshot of the speed test result of 50Mbps internet package, which shows the performance of NT fiber excels in every possible way (not only the download and upload speed but also the latency). With 50 Mbps package, you get around 200 Mbps DL speed and 100 Mbps UL speed.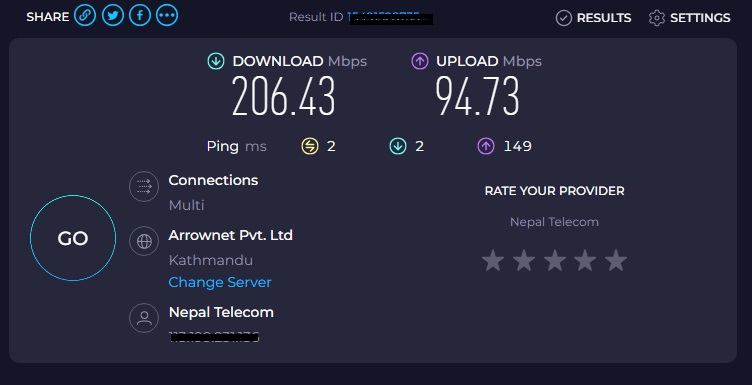 The company provides the speed as it has said in the package (actually more than that) which users can also check by themselves using these online speed-checking tools. The number of users connected to the same network greatly affects the speed rate each device gets because the bandwidth rate is split among the users. Therefore, when you are the only one using the connection, you can check the speed to see how much bandwidth speed you are getting from the company.
6. Up to 1 Gbps fiber internet powered by world-class XG-PON technology
Nepal Telecom has recently launched high-speed FTTH internet packages comprising blistering 1 Gbps and 500 Mbps fiber internet plans. Backed by the next-generation XG-PON technology, the package is capable of delivering 10 Gbps downstream and upstream capacity of 2.5 Gbps in theory. For now, the 1 Gbps and 500 Mbps plans are available for corporate users and enterprises in Kathmandu.
7. Easy to install or lodge a complaint by dialing 198-1
Ntc has made it very easy to install or register any complaints regarding its NT Fiber services. Customers can dial 198 and then 1 to query the availability of Ntc Fiber internet service from customer service centers' representatives. Using the same phone number, the application for the service can be registered. On account of any issues or complaints regarding the service, customers can dial the same number and register for a prompt solution.
8. Nepal Telecom app for multiple NT services
The Nepal Telecom app provides importation information about the company's services including fiber internet packages. You can use your router's serial number to register. After this, you can use your customer number and get multiple services.
Using the app, you can check the signal to determine whether your Ntc fiber internet is working or not. You can restart your router, check the volume usage, and speed, find download and upload speed, etc. Additionally, the app also lets you change your WiFi's name (SSID) and password on the go.
Do read: Top 10 reasons why you should use Nepal Telecom mobile app
9. One free landline phone
While buying an Ntc fiber internet package, you get to choose from several affordable plans. Such a package comes with 1 phone line connection for free. You can leverage this benefit to make unlimited telephone calls. While many use mobile phones these days, a landline phone adds a culture and serves as a good option for making calls in a house. This is one of the top reasons to choose Ntc fiber internet packages.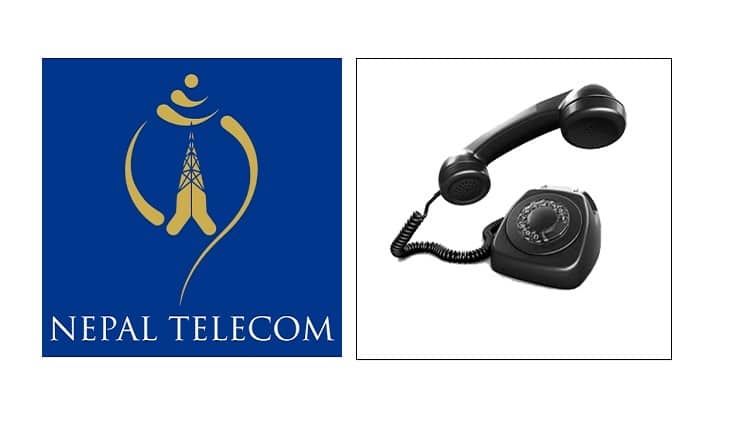 10. "7-to-7" maintenance service
The company dedicates itself a great deal to customer service. For any issue persisting in the FTTH connection, Ntc is available from 7:00 AM to 7:00 PM. This maintenance service is currently available in Kathmandu and is steadily expanding to other areas outside the valley. In case of an abrupt disruption in NT Fiber, repairing service is ensured instantly. Ntc starts intervention to resolve any issues after a call. Whether it's a speed fluctuation, disconnection, router or fiber issue, or anything else, the company will be at its service during the said time for its customers.
Ntc values the customers' need for consistent connectivity and assures that it will do its best to ensure every of of them remains connected. We can't imagine staying home but being offline. Saying that the internet has become a necessity would be an understatement. It's now a way of life. So, a 7-7 customer service ensures that FTTH customers don't face any lengthy disconnection from the fixed-line broadband service.  
You may also want to read: Namaste WiFi service launched with Ntc 4G router, Unlimited Internet Packages, & Voice
Our conclusion
Ntc's fiber internet packages come with many benefits. First, they are affordable and next, there are up to 3 additional services you get- IPTV, voice, and internet. This has become possible thanks to the company's active transition to fiber optics. This offer becomes more appealing with the fact that you get 1 landline connection for free which you can use to make unlimited HD calls.
As mentioned above, Ntc is the only company in Nepal to offer FTTH fiber internet service with underground cables. This is an important dealmaker for customers. In contrast to aerial cables, underground cables are less susceptible to cable breakages and wear and tear from adverse weather conditions, and other "infrastructure damages". So, they tend to require less maintenance attention and customs can expect continuous and optimum service.
For corporate users, there are now high-speed "XG-PON" internet packages of 1 Gbps and 500 Mbps. One unavoidable thing is that Ntc uses dedicated bandwidth and gives its customers a generous FUP threshold which means you get to surf your internet at the promised speed with more volume in your pocket (check the speed test result snapshot attached above and here with Fast).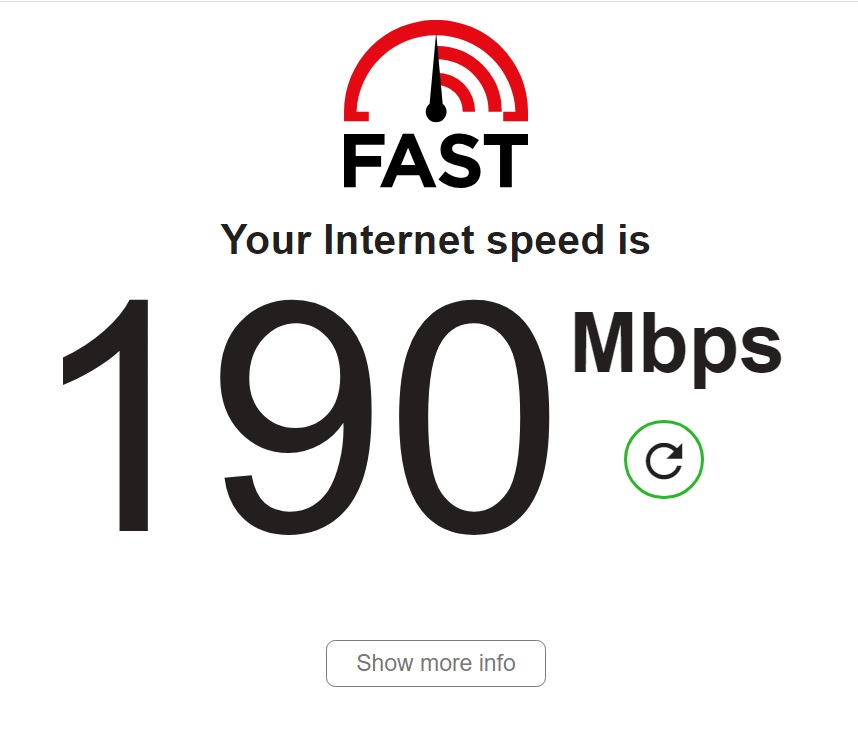 For price and packages, Ntc's fiber internet plans seem suited to all users from all age groups. The up to 250% bandwidth speed increase makes further appealing. What do you think of NT Fiber plans and the reasons to choose it? Don't forget to share with us below in the comments.