Dashain 2080 has begun and so has the high-time of consumerism with customers browsing through discounts and offers to get their electronics, internet, smartphones, and mobile services at an unprecedented rate. Finding these offers separately could be one hectic task to begin with. So, here we are listing all the best Dashain Festival offers, the smartphone OEMs, internet service providers (ISPs), and mobile operators (Ntc, Ncell) have launched to up the festivities.
All Dashain offer 2080 compilation- Smartphones, Internet, Data, discounts
On the occasion of the Dashain festival 2080, Smartphone vendors such as Xiaomi, Samsung, vivo, ISPs WorldLink, Vianet, Dish Home, telcos, Nepal Telecom (NTC), and Ncell have all announced lucrative offers bringing their products and services at unmatched prices. Let's get to them in detail.
Discount on smartphones
Samsung
Samsung Nepal has launched "Samsung Mobile Chyappai, Scooter Jhyappai" as its Dashain offer 2080. Under this offer, Samsung is gifting 25 TVS Ntorq 125cc scooters worth Rs 233,900. You can stand a chance to bring this trendy brand-new scooter on the purchase of Samsung smartphones and tablets.
Xiaomi
Likewise, Xiaomi has brought its Dashain Tihar festive offer bringing delightful discounts on its smartphones. Under this campaign, you can buy various smartphones from 4G to 5G at reduced costs. For eg, Redmi 12C starts at Rs 13,999 against its original cost of Rs 14,999. The prominent Redmi Note 12 5G comes at Rs 23,499 (6/128GB) whose original cost is Rs 24,999 in the market.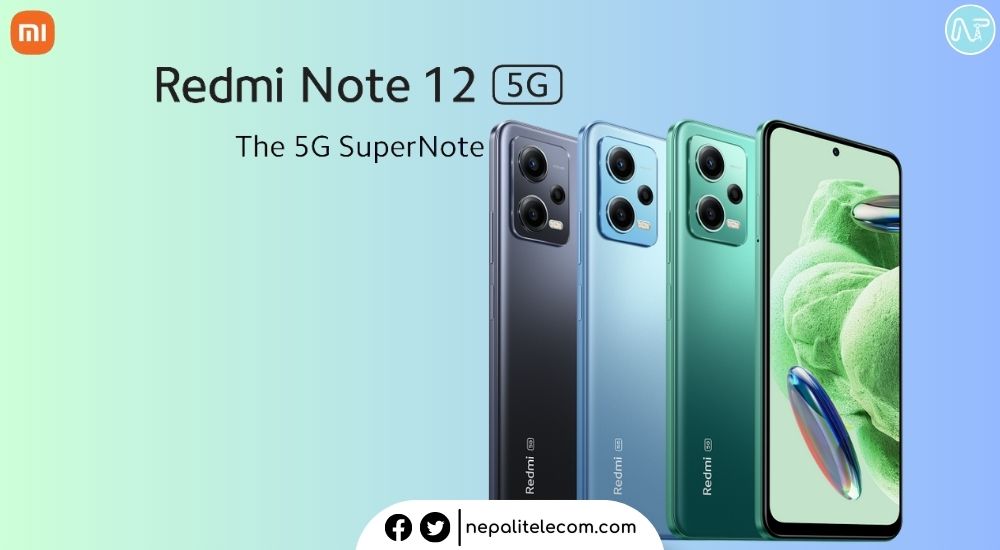 If you didn't know, the iconic mid-ranger is the fastest Android phone to reach 1 million global shipments. There are other Redmi Note 12 Series devices available in this offer as well. Likewise, you can buy the POCO X5 Pro 5G phone (6/128GB) for Rs 37,999 which costs Rs 39,999 before the discount. Check out: Xiaomi & Redmi Mobile Price in Nepal 2023 | Latest Update
vivo
Likewise, another Chinese smartphone brand vivo has announced its pre-festival Dashain Tihar offer of 2080 with discounts on select handsets. The offer brings mid to upper-mid-range smartphones at appealing discounts. You can buy the vivo Y02 smartphone for Rs 12,999 after a discount on its regular cost of Rs 13,499. Likewise, the vivo Y36 handset costs Rs 27,999 with a discount of Rs 1,000.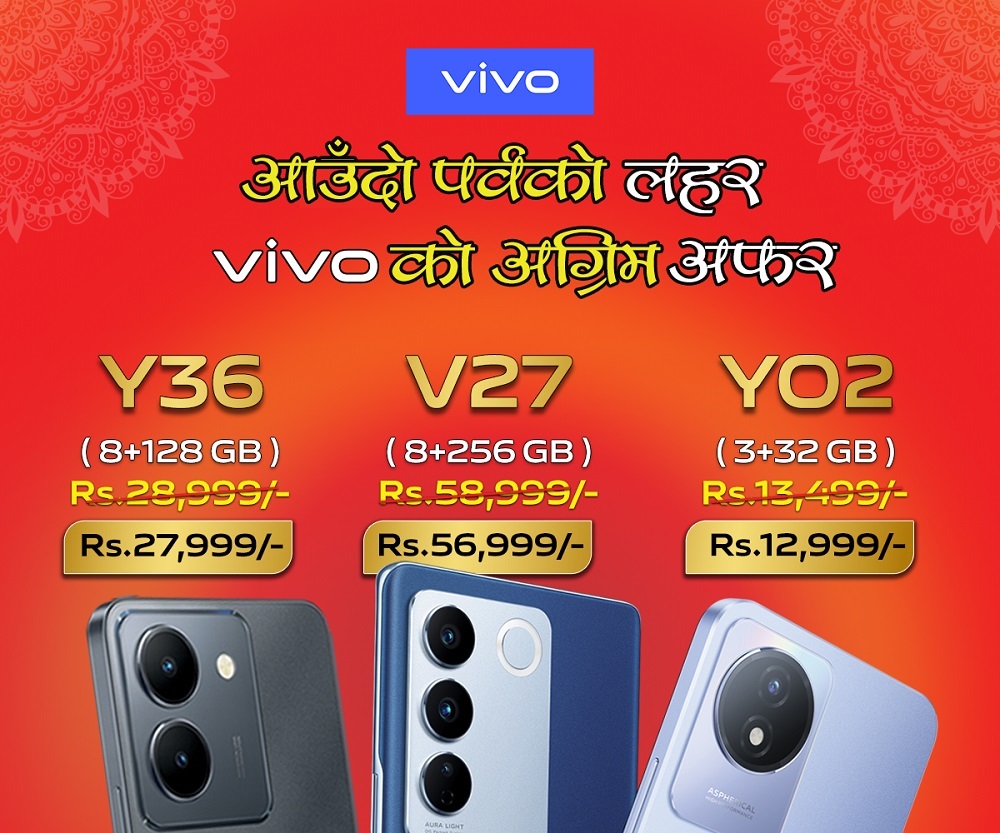 If you want a larger upgrade, then you can opt for the vivo Y27 upper-mid-range vivo phone. This costs Rs 56,999 after discounts on its original cost of Rs 58,999. Find more options: Vivo Mobile Price in Nepal [Latest 2023 Update]
Infinix
Infinix has launched its Dashain Tihar offer bringing customers a chance to win Infinix HOT 30i smartphone. In this offer, lucky customers have a chance to get the hot affordable device for a steal cost of just Rs 16,999. Find details here: Infinix Dashain Tihar Offer
Best Internet Deals from Internet Service Providers (ISPs)
As Dashain festivities begin, many attractive offers on internet packages keep pouring in. With the aim of bringing new customers aboard and keeping the existing subscribers aboard, many ISPs have announced discounts and offers on their internet. WorldLink, Classic Tech, Vianet, Subisu, Dish Home, CG Net, etc. have launched various internet offers this year. Let's explore in detail every ISP and their Dashain festival offer for 2080.
WorldLink
WorldLink and Khalti have launched a "Full Dashain Offer" which brings a Dubai offer bringing users a chance for a Dubai tour for 4 nights and 5 days. You will be eligible to participate in this offer after paying for a new or a renewal of WorldLink's either 3-month or 12-month packages via Khalti.
As per the private ISP, anyone who pays for the said packages will receive voucher codes which will be the customers' entry in the lucky draw. In this offer, 24 lucky couples will be going on a Dubai trip, and to their delight, Khalti will cover all their expenses making it quite an extraordinary tour to remember.
Vianet
Likewise, Vianet Communication has launched its Dashain offer called "Chadma Chauka". The offer brings its 125 Mbps internet package at a huge discount of just Rs 8,400 (Plus VAT). The ISP claims that it is the cheapest cost for a plan in this speed segment. In addition, the company is also offering huge discounts on its 200 Mbps and 300 Mbps internet packages.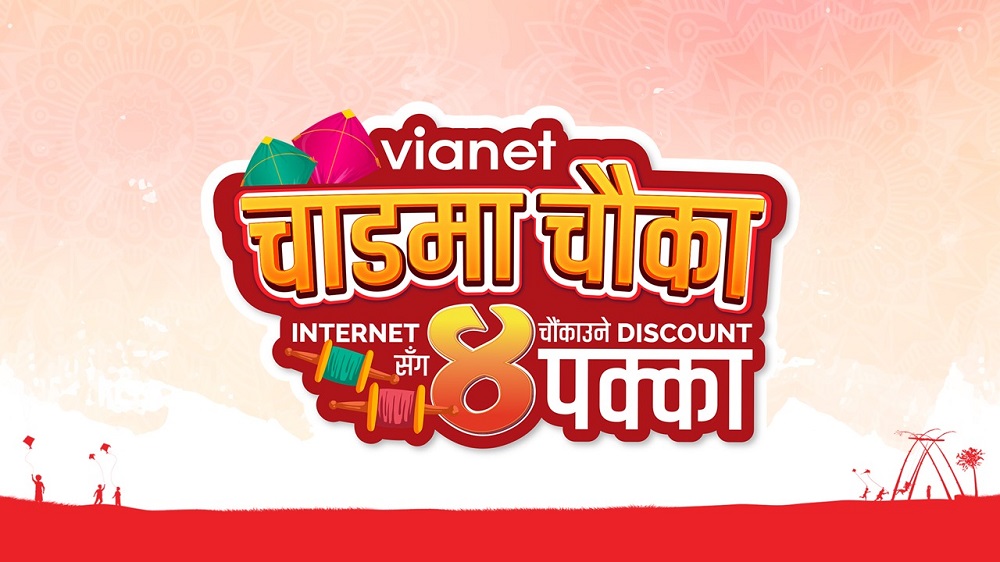 Vianet's festival offer isn't limited to its internet packages. Under this offer, the Kathmandu-based prominent ISP is placing up to 50% discount on Ultima Wireless Earbuds and Himstar Appliances.
Classic Tech
Another private ISP Classic Tech has also launched the "Afno Dashain" offer for Dashain Tihar festivals. With this generous offer, the company is providing 200 Mbps and 300 Mbps internet plans at Rs 907 and Rs 1177 respectively. To ensure a premium and promised internet experience, customers will get a ZTE dual-band router while the offer also includes a smart set-top-box (STB) for free.
Besides, you can also bring an LED TV home from Classic Tech this Dashain to elevate your home setup. The company is offering Videocon 32-inch smart TVs for Rs 19,131. On the other hand, you can buy the larger 43-inch Videocon smart TV for Rs 28,701.

Excitingly, you also see your 250 Mbps annual plan promoted to 500 Mbps on an annual renewal and a 24-month service on an annual recharge.
Subisu
Subisu Cablenet has recently launched its Dashain offer for its customers. Under this plan, the ISP is offering 4 different internet packages at attractive costs on a 4-month and annual basis.
The offer starts from 80 Mbps plan for 4 months at Rs 4,999. The same speed package costs Rs 10,999 on an annual subscription. If your internet demand is higher, you can opt for either 200 Mbps or the 300 Mbps plans that cost Rs 12,999 and Rs 16,999 respectively. With Subisu internet packages, you have an option for dual-band router and ITPV services just like with other leading ISPs.
Dish Home
Like some other ISPs, Dish Home is also offering double the bandwidth speed of a particular package at the same cost in its FiberNet festival offer for Dshain and Tihar festivities. Under this plan, Dish Home is doubling the 50 Mbps plan to 100 Mbps at Rs 7,798 on an annual purchase. Similarly, the 75 Mbps package is increased to 150 Mbps which is available for Rs 8,759. The 100 and 150 Mbps plans will rise to huge 200 Mbps and 300 Mbps plans costing Rs 9,698 and Rs 10,574 respectively.

With Dish Home, you also get the benefit of a WiFi 6 router and Mesh system which radically improves your home WiFi internet connection.
The ISP has also launched another offer starting from Ghatasthpana which enables users to get 2 years of service on the subscription of a one-year connection. The offer will stay valid till from Ashoj 28 to Kartik 11.
CG Net
CG Net, Chaudhary Group's fiber internet subsidiary has launched the "Hattrick Dakshina" plan for this Dashain. With this campaign, the ISP will increase customers' existing internet package by three times and there are offers of up to 50 percent discount on CG TVs. If you are a CG Net customer or want to be, then the Dashain offer brings 80 Mbps and 50 Mbps plans at the same cost but with 3x speed. Besides, you also get a cashback of up to Rs 500 on internet payments via eSewa.
Nepal Telecom fiber net
For the Dashain Tihar festival, Nepal Telecom has increased its fiber net speed to 250% at the same price, which is quite a big offer. As known, the minimum fiber net speed in Ntc is 25 Mbps which costs Rs 8000 per year. Other fiber net packages are 50 Mbps, 100 Mbps, and 150 Mbps for individual users. Find the details of the Ntc fiber net packages.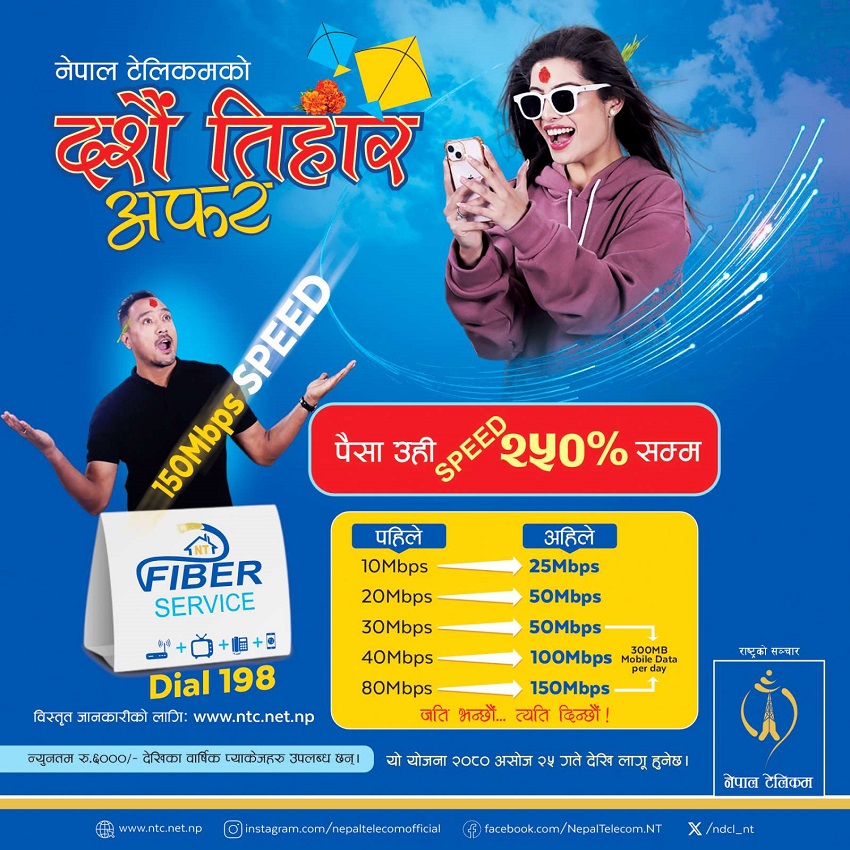 Affordable and massive packs from telecom companies
Nepal Telecom (NTC) has launched a diverse range of offers on the occasion of the Dashain and Tihar festivals. The company recently launched the festival offer which consists of voice, data, and bonus on recharge, etc.
As usual, the state-backed company has offered a generous offer for its customers. Under this, you get unlimited data at a decent 1 Mbps internet, which costs Rs 49. For moderate internet use, you can buy 6 GB or 13 GB data that cost Rs 98 and Rs 199 respectively. Likewise, you can also purchase 20 GB or 30 GB data packs valid for 10 days and 15 days respectively. To learn details about the Ntc Dashain offer, read here.
Private operator Ncell Axiata has also announced this Dashain offer bringing a massive data bonus on recharge of up to 8000 MB (8 GB). To grab this offer, you need to buy an Ncell pack of Rs 200 or above from Ncell stores or online payment channels. Read in detail: Ncell Festive Refill Dashain Offer
These are the best Dashain Tihar festival offers in 2080 from the leading smartphone brands, telecom companies, and ISPs. You can grab your opportunity to buy any product or service and get the benefit and enhance your festivities this Dashain and Tihar. We will bring more updates to these offers when there's anything new and more.